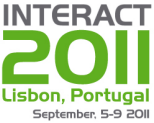 Structure
This workshop is planned for one full day including the following activities of an invited talk, papers presentations and a round table discussion. Participants have to prepare a position paper of 4 to 10 pages which will be reviewed by an international committee. Selected papers will be published on the workshop web site and will be presented during the workshop. The outcome of the workshop will be a white paper presented on the web site of the workshop.
---
Paper submission
Papers presenting original research in conference topics are being sought.
Paper (4-10 pages) written in English should be sent by 20 June 2011 .
It is strongly recommended that papers use the templates provided by Springer.
Please submit a pdf-version via the conference management system easychair. Acceptance will be based on quality, relevance and originality of the work. Authors will be notified of acceptance or rejection via e-mail by 11 July 2011.